Gold To Hold Bullish Till $1250, Crude To Trade Sideways
Gold prices closed higher on Wednesday over political risk in Europe and economic conditions in the US. Prices holding steady to a fresh three – month high with the second phase of uptrend continuous from $1180. The prevailing bull trend could continue till it's important near – term resistance at $1250. Even the current rally could extend up to $1270 levels. Gold Futures in MCX trading positive for the fifth day in row. The uptrend started at Rs.28100 and could end up in its important resistance at Rs.29600 levels. We can see prices holding steady above its key level of Rs.29300, expect to trade bullish in near term.
Silver trading in a bullish sentiment and prices up nearly $2 in this medium term rally. The medium – term positive trend getting stronger as prices move slightly away from its long term down trend. Silver prices expected to rally till it's important near – term resistance at $18. Silver in MCX Futures trading in a sideways range of Rs.42200 to Rs.42500 levels for this week. The next sharp up – side could come above Rs.42500 till Rs.42800 to Rs.43000 levels.
Copper prices rallied on Wednesday with its open low of Rs.392 till Rs.399.25 but prices closed little lower below its key level of Rs.396. We can see a consolidation phase from Rs.390 to Rs.395 levels over a week. The next upside rally could come above Rs.396 to head towards Rs.400 to Rs.404 levels. The strike announcement from Escondida Copper mine in Chille and the warning from workers that the strike will be lengthy that affect productions could support next bull trend in Copper. Nickel to trade sideways around Rs.690 – Rs.710 and next upside expected above Rs.710 till Rs.730 in near term.
Lead closed higher around 1.74% on MCX at Rs.160.4. Lead trading higher on Thursday for the continuous fifth day in a row. The rally could continue till its key resistance of Rs.161.5 and could be more bullish above that to target Rs.165 levels in near term. Zinc holding up for the fourth day in a row and now hovering around its important level of Rs.190 to Rs.191 levels. We can expect Zinc to trade higher till Rs.193 to Rs.195 levels. Aluminium trading above its resistance of Rs.123, earlier prices was trading in a consolidation phase of Rs.122 to Rs.123 levels. We can expect Aluminium to hold its bullish sentiment till Rs.125 to Rs.128 levels.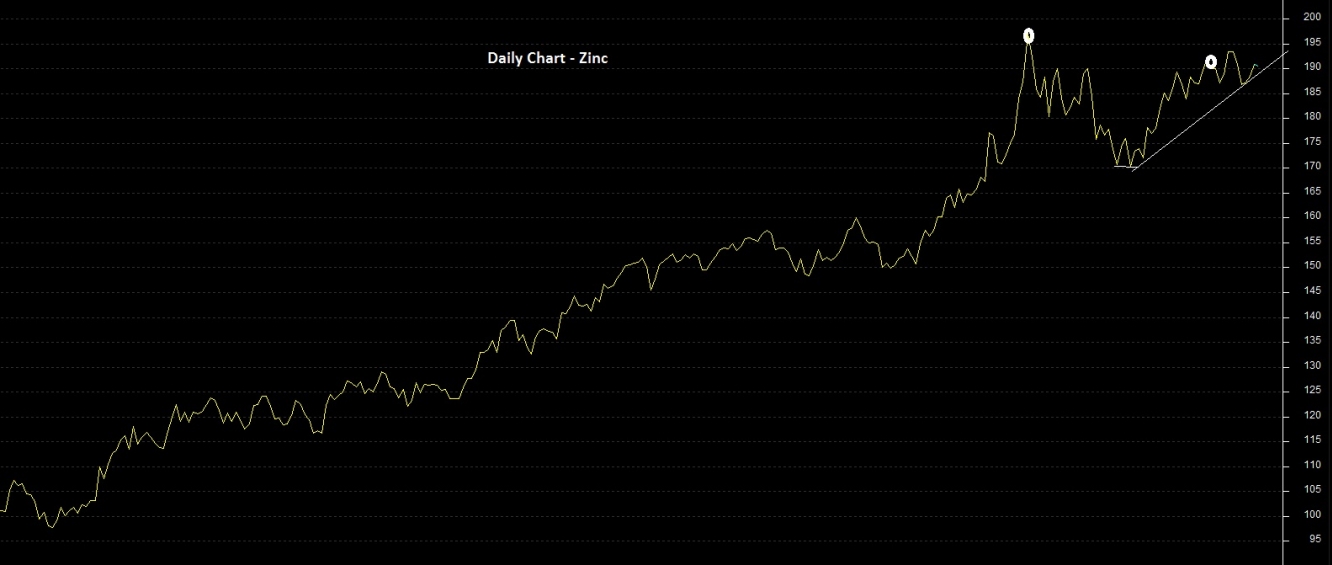 Crude Oil prices trading higher on Thursday after a drop in US gasoline stocks supported prices. Prices holding steady above $52.5 and could trade in a sideways range of $52.5 to $54. Crude opened lower on Wednesday but managed to close higher at $52.34. Crude Oil in MCX Futures rose on Wednesday after making a low of Rs.3456. Prices closed little higher at 0.40% at Rs.3514. Prices trading little higher on Thursday to find its key resistance at Rs.3550. We can expect sharp upside move above Rs.3550 levels till Rs.3600 to Rs.3700. Natural Gas prices trading in a volatile range of Rs.207 to Rs.213. The trend remains weak for near term. Important resistance at Rs.215