Gold prices rebounded sharply higher and continuous it's bullish trend for the last two days as Fed leaves the Interest rate unchanged. Prices made a low of $1307.6 on Wednesday and rebounded sharply, made high of $1337.05. We earlier suggested buying could come around the supports of $1300 to $1310 levels. Currently we can see resistance at $1340; a break could take prices to next level of $1350 to $1360 in a near term.
Gold Futures in MCX rallied higher on Wednesday around Rs.30900 to close in a positive note at Rs.31205, We can expect prices to trade sideways around Rs.31200 to Rs.31300 levels, a break and hold above Rs.31300 could take prices to Rs.31400 to Rs.31500 levels in a near term.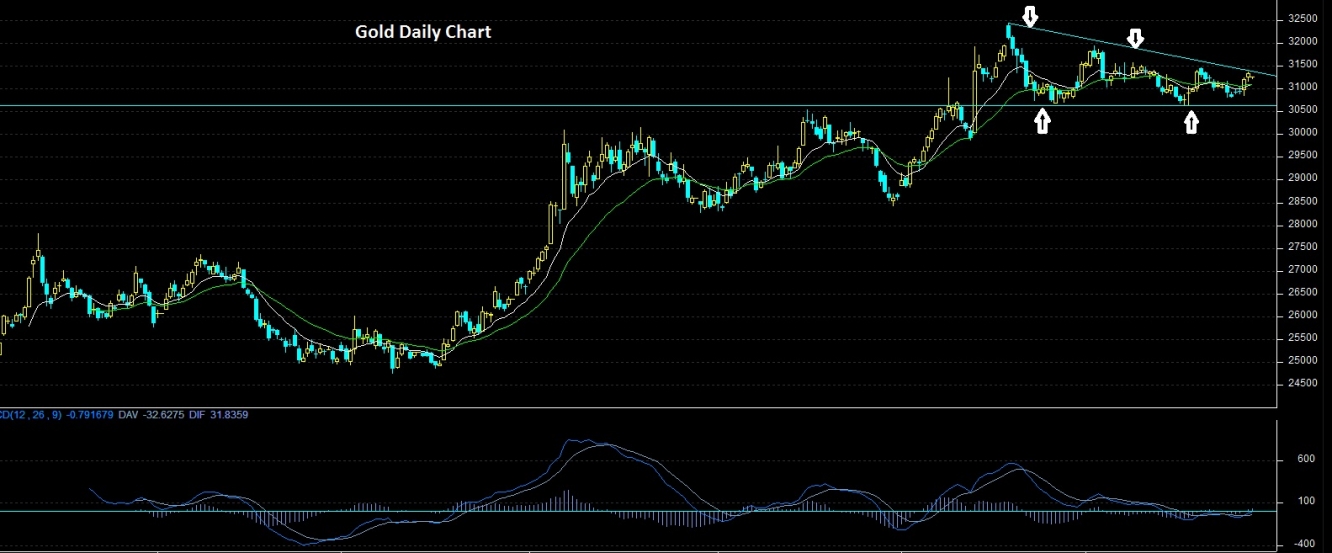 Silver rallied higher after a break of the consolidation level at $18.8 to $19.2, prices now currently finding its key resistance level at $20. A break could take prices to short term resistance at $20.2, then can expect up to $20.5. Silver MCX Futures December trading in sideways moves around Rs.47000 to Rs.47500 levels. We can see support level at Rs.47000; a hold can take prices again to Rs.47500 to Rs.48000 short term.
Base Metals trading mixed, copper looks bullish as prices trading above Rs.326 levels. Earlier we saw prices caught in a range of Rs.322 to Rs.325 levels. Prices had a break above of Rs.326 yesterday and closed firm. We expect bullish momentum to continue till Rs.328 to Rs.330 in a near term. Nickel turned bullish, rallied sharply from Rs.650 as a formation of hammer. Prices climbed higher on Monday and we expect prices continue to trade bullish till Rs.720 in near term.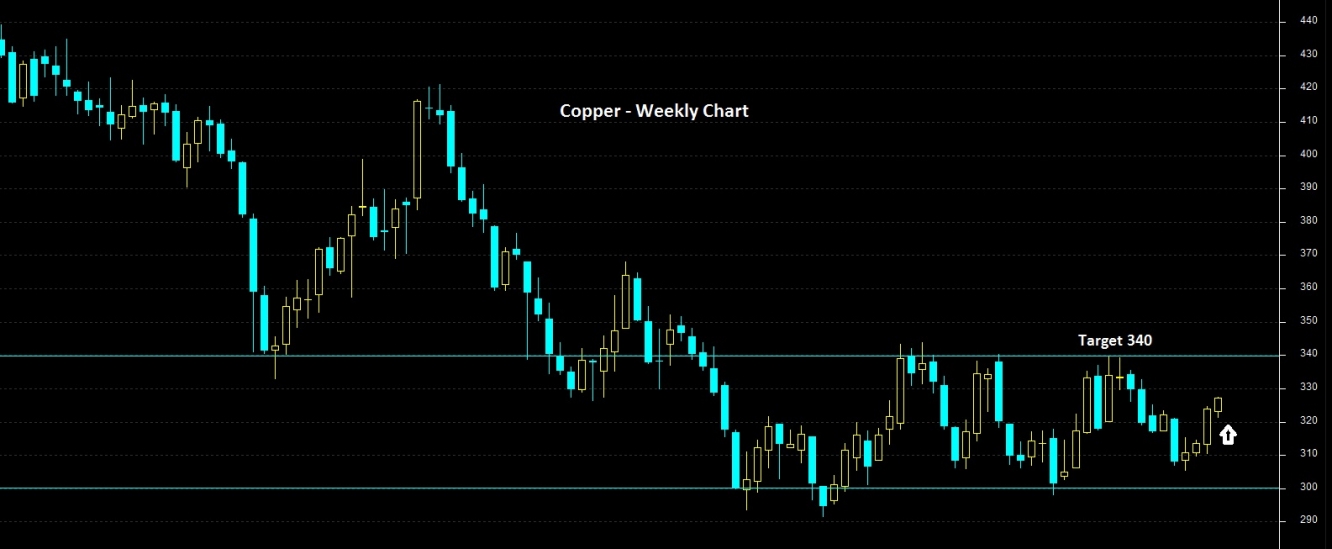 Lead prices trading in a volatile range around Rs.129 to Rs.133 levels. Prices dropped from recent high of Rs.132.8 and made a low of Rs.129.2 on Thursday. We can see prices to trade under pressure below Rs.129 for near term. The Long term trend remains bullish; any dips can be seen as a buying opportunity. Zinc prices lack moves this week, trading in a tight range of Rs.151 to Rs.153 levels. We expect prices continue to trade sideways around these levels and either break or close could decide next move. Aluminium prices rallied sharply higher after a break of the consolidation level Rs.104 to Rs.106, prices made a high of Rs.108.4 on Thursday. We maintain our bullish view.
Crude Oil rallied sharply higher from the head and shoulders pattern at $43. Prices made high on Thursday at $46.52. Prices look to trade in a volatile range. Crude prices for short term looks bullish, however a break below $45.5 could see some profit booking till $44.5 to $44, short term resistance seen at $46.
Crude Oil MCX Futures trading in a correction mode. Prices trading little lower on Friday and could face its key support at Rs.3030 to Rs.3050 levels. A hold below Rs.3030 could take prices lower else we can see a rebound to Rs.3100 to Rs.3150 levels. Natural Gas prices looks bullish, prices rallied higher on a break above Rs.200, made a high of Rs.207.6 yesterday. Prices currently trading in a correction mode to take support at Rs.198 to Rs.200. We can expect upside up to Rs.210 in near term.